Tesla Model S 85D Review
By Mark Aria -
Lifestyle Adventurist and Adrenaline Junkie
Car Summary
Take a drive into the future when you hire a Tesla Model S 85D. A dual-motor 4WD executive car, the Tesla Model S 85D sits at the cutting-edge of the electric vehicle technology, offering an energy efficient electric car with outstanding performance.
The Tesla S 85D is fitted with an 85 kwh battery that has a range of 434 kilometers. It can make 0-100 km/h in 4.4 seconds, continues to a top speed of 249 km/h and produces 422 bhp, with the power output divided 50:50 between the front and rear electric motors. Acceleration is smooth, quick and surprisingly quiet whilst the drive is agile, comfortable and sharp, with good grip on the road.
The Tesla design team have worked hard to ensure the Model S utilises aerodynamics to reduce drag and increase energy efficiency, with a smart air suspension that lowers the car's height to increase the airflow at the front. The Tesla S 85 D comes with a wealth of safety features including an Autopilot system that combines a front camera, radar and 360-degree sonar sensors to drive the Model S automatically, an electronic stability and traction control system and four-wheel antilock disc brakes with automatic emergency braking.
There is also a blind spot warning, lane-departure warning and a speed limit display. If these are not enough to help you avoid a collision, you can relax in the knowledge there are eight driver and passenger airbags for your protection.
This is an executive car with a conscience, and every part of its exquisite exterior and interior are designed to balance luxury and visual beauty with environmental friendliness. The minimal aerodynamic design includes seamless polished zinc door handles and concealed charge ports, as well as a luxurious Nappa leather trim in the cabin.
You can enjoy the 17" touchscreen infotainment system that includes an onboard navigation system, wifi connectivity, Bluetooth and AM/FM radio, whilst you can sit back and relax in the extremely comfortable twelve-way power adjustable heated front seats. With automatic climate control and a wonderful glass panoramic sunroof, you can enjoy the great outdoors without compromising your comfort.
This is the ideal car for business travel, and with Tesla's Supercharger network you can enjoy long distance travel without the worry of running out of energy.
Reviews
"the most complete and appealing electric car on sale"
This is a fast and luxurious executive car, fitted with cutting-edge electric technology. With a dual-motor, it now has 4WD and some advanced safety features, including blind spot warning, parking assist and lane departure warning. It has a 422 bhp power output that is split evenly between the two electric motors and helps push the 85D from 0-100 km/h in just 4.4 seconds. The acceleration is superb, and the drive is focussed towards comfort. It has good suspension and responsive steering, and with air suspension makes an excellent road cruiser. Its design is sporty and athletic, and the generous sized cabin includes a 17" touch screen infotainment system and smart keyless entry system.
"The 2015 Tesla Model S has no direct competition; the electric luxury hatchback is the benchmark among its kind in a market with more than 20 plug-in models"
This is one of the world's most advanced cars, and has taken the automotive industry by storm since its release. It is good looking, comfortable and fast, and has an excellent safety record. The Tesla Model S 85D has an incredible acceleration, with dual-motor 'engine' that has a 270-mile range. This five-passenger sedan has a light aluminium body and an aerodynamic design, creating minimal drag to preserve the precious better energy. In the cabin, a 17" colour screen dominates the centre of the dashboard, and is a focal point in the minimalist cabin. Tesla's Supercharger network is rapidly expanding, and with the ability to charge the battery to 80% capacity in under half an hour, you can take to the road for long distance trips in confidence.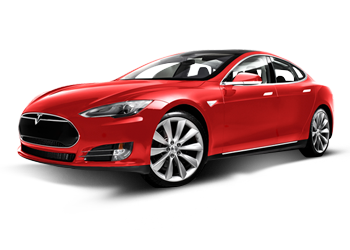 Last Review

17.05.2015

Price

€995 per day

Body Style Review

sedan